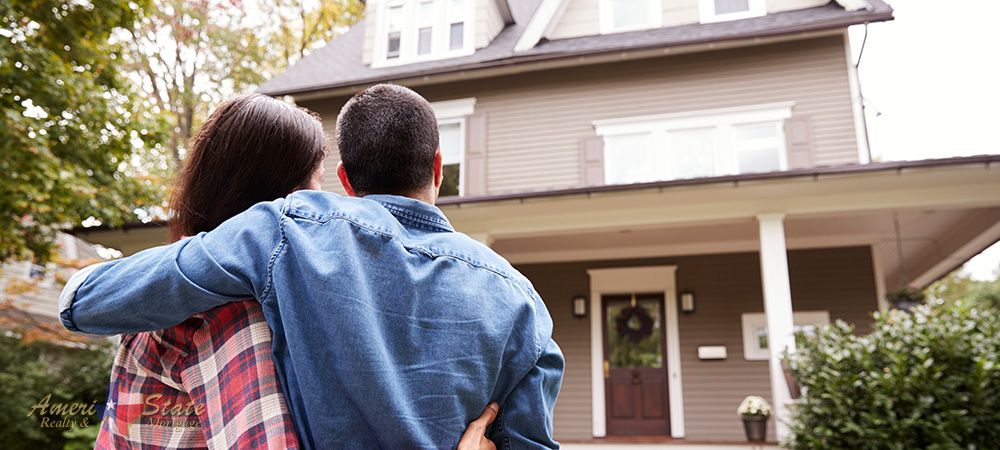 14 first-time homebuyer mistakes to avoid
AmeriState Realty & Mortgage
Buying your first home comes with many big decisions, and it can be as scary as it is exciting. It's easy to get swept up in the whirlwind of home shopping and make mistakes that could leave you with buyer's remorse later.
If this is your first rodeo as a homebuyer or it's been many years since you last bought a home, knowledge is power. Along with knowing what issues to avoid, it's important to glean first-time homebuyer tips from the pros so you know what to expect and what questions to ask.
Here are 14 common first-time homebuyer mistakes, along with first-time homebuyer tips on how to avoid them:
1. Looking for a home before applying for a mortgage
Many first-time buyers make the mistake of viewing homes before ever getting in front of a mortgage lender. In some markets, housing inventory is still tight because there's more buyer demand than affordable homes on the market. And in a competitive market, you could lose a property if you aren't preapproved for a mortgage, says Alfredo Arteaga, a loan officer with Movement Mortgage in Mission Viejo, California.
2. Talking to only one lender
This one is a biggie. First-time buyers might get a mortgage from the first (and only) lender or bank they talk to, potentially leaving thousands of dollars on the table.
"A good mortgage loan officer can look at your situation and diagnose any potential roadblocks ahead to give you a clear understanding of your home-buying options," Arteaga says.
3. Buying more house than you can afford
It's easy to fall in love with homes that might stretch your budget, but overextending yourself is never a good idea. And with home prices still rising, this is easier said than done.
4. Moving too fast
Buying a home can be complex, particularly when you get into the weeds of the mortgage process. Rushing the process can cost you later on, says Nick Bush, a Realtor with TowerHill Realty in Rockville, Maryland.
"The biggest mistake that I see (first-time buyers make) is to not plan far enough ahead for their purchase," Bush says.
5. Draining your savings
Spending all or most of their savings on the down payment and closing costs is one of the biggest first-time homebuyer mistakes, says Ed Conarchy, a mortgage planner and investment adviser at Cherry Creek Mortgage in Gurnee, Illinois.
"Some people scrape all their money together to make the 20 percent down payment so they don't have to pay for mortgage insurance, but they are picking the wrong poison because they are left with no savings at all," Conarchy says.
6. Being careless with credit
Lenders pull credit reports at preapproval to make sure things check out and again just before closing. They want to make sure nothing has changed in your financial picture.
7. Fixating on the house over the neighborhood
Sure, you want a home that checks off the items on your wish list and meets your needs. Being nitpicky about a home's cosmetics, however, can be short-sighted if you wind up in a neighborhood you hate, says Alison Bernstein, president and founder of Suburban Jungle, a real estate strategy firm.
"Selecting the right town is critical to your life and family development," Bernstein says. "The goal is to find you and your brood a place where the culture and values of the (area) match yours. You can always trade up or down for a new home; add a third bathroom or renovate a basement."
8. Making decisions based on emotion
Buying a house is a major life milestone. It's a place where you'll make memories, create a space that's truly yours, and put down roots. It's easy to get too attached and make emotional decisions, so remember that you're also making one of the largest investments of your life, says Ralph DiBugnara, president of Home Qualified in New York City.
"With this being a strong seller's market, a lot of first-time buyers are bidding over what they are comfortable with because it is taking them longer than usual to find homes," DiBugnara says.
9. Assuming you need a 20 percent down payment
The long-held belief that you must put 20 percent down payment is a myth. While a 20 percent down payment does help you avoid paying private mortgage insurance, many buyers today don't want (or can't) put down that much money. In fact, the median down payment on a home is 13 percent, according to the National Association of Realtors.
10. Waiting for the 'unicorn'
Unicorns do not exist in real estate, and finding the perfect property is like finding a needle in a haystack. Looking for perfection can narrow your choices too much, and you might pass over solid contenders in the hopes that something better will come along. But this type of thinking can sabotage your search, says James D'Astice, a real estate agent with Compass in Chicago.
11. Overlooking FHA, VA and USDA loans
First-time buyers might be cash-strapped in this environment of rising home prices. And if you have little saved for a down payment or your credit isn't stellar, you might have a hard time qualifying for a conventional loan.
12. Miscalculating the hidden costs of homeownership
If you had sticker shock from seeing your new monthly principal and interest payment, wait until you add up the other costs of owning a home. As a new homeowner, you'll pay for property taxes, mortgage insurance, homeowners insurance, hazard insurance, repairs, maintenance and utilities, to name a few.
13. Not lining up gift money
Many loan programs allow you to use a gift from a family, friend, employer or charity toward your down payment. Not sorting who will provide this money and when, though, can throw a wrench into a loan approval.
14. Not negotiating a homebuyer rebate
The concept of homebuyer rebates, also known as commission rebates, is an obscure one to most first-time buyers. This is a rebate of up to 1 percent of the home's sales price, and it comes out of the buyer agent's commission, says Ben Mizes, founder and CEO of Clever Real Estate based in St. Louis.
Source: bankrate
Professional Realtors, Marisol Mendez and Esteban work together and represent early buyers for the purchase or sale of new or used homes in Houston. "I am a Real Estate Professional in the Greater Houston Metropolitan Area. It has been my greatest pleasure to have helped many families close on their properties in the Houston Area. I am committed to making sure that your buying/selling experience is an enjoyable one. I am passionate about what I do and always looking out for the best interest of my clients."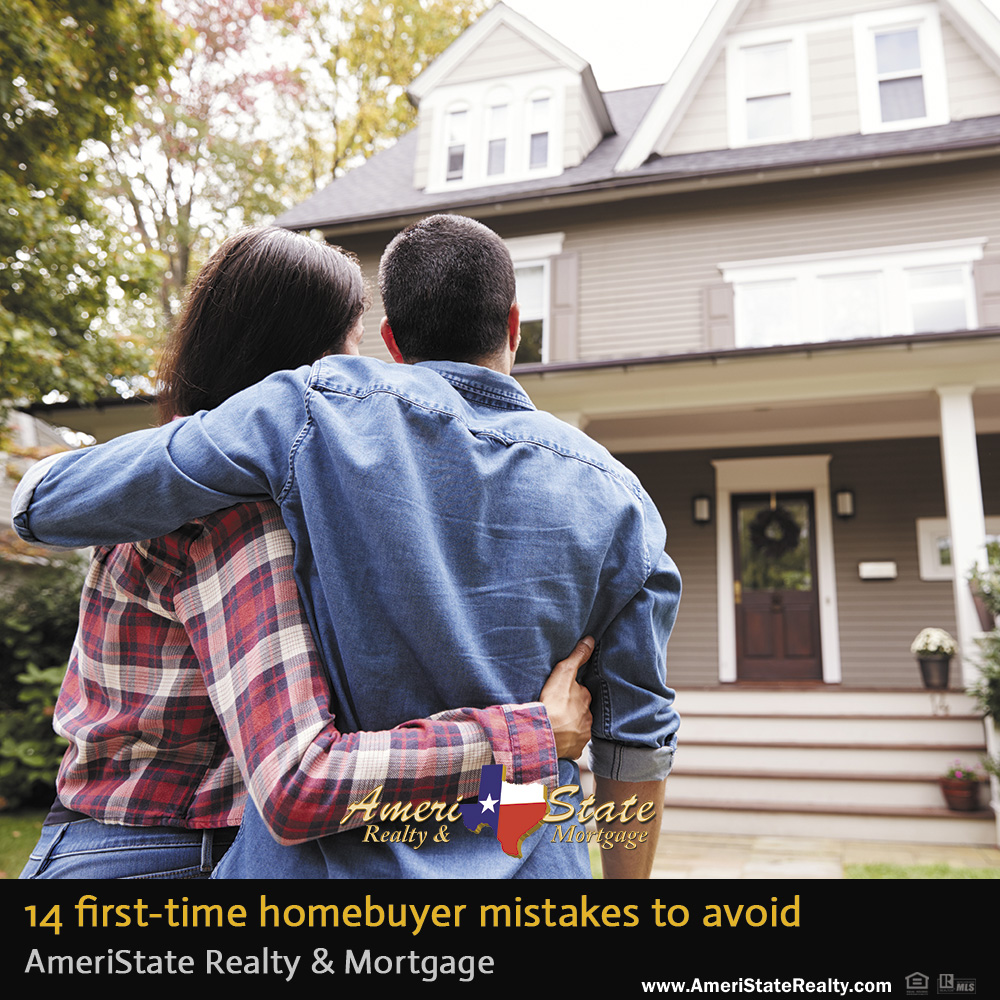 AmeriState Realty & Mortgage.
AmeriState Realty & Mortgage, Realtor in Houston, Buy a house in Houston, Sell house in Houston, Real estate agent in Houston, Homes for sale in Houston, Homes for rent in Houston, Mortgage, Residential Loans, Construction Loans, Land Loans, Commercial Loans, Industrial Loans