7 Quick Tips for Selling a House Fast
Sell house in Houston
You're ready to move on to a new stage in your life, and it's time to sell your house! But let's face it, we all know that selling a house isn't always an easy process. One of the biggest concerns that sellers have when putting their houses on the market is that there it will sit day after day turning into weeks or even months.
Although this is a valid concern, if you have the proper knowledge and insight on how to sell quickly, then selling a house will be a stress-free process for you. To ensure your house sells fast, follow these 7 quick tips!
1. Find The Right Real Estate Agent
Find the right real estate agent by ensuring that he or she has a solid track record of house sales. Your agent should also be familiar with the neighborhood, the market trends for that area, and how to display your house in a way that will make buyers fall in love. Your agent should be familiar with other professionals such as a photographer to take amazing photos of your house.
Be sure that your agent is ready to promote your house on all platforms, especially those online. Your real estate agent will also be there to help you through many complex home-buying processes and ensure that everything is done correctly.
2. Sell During The Right Time
There are certain seasons of the year that are better for the selling market. Those seasons are the spring and the summer. This is the best time to sell your house. When families are planning on moving, they try to make the move before the new school year starts and the weather during this time permits for better house viewing.
However, when deciding exactly when to sell your house, be sure to take all of your needs into consideration as well. If you're still looking for your new home, then this might affect when the right time to sell yours is.
3. Remove Personal Items And Declutter The House
Before showing a house to any potential buyers or having a photographer come in to take photos, be sure that you first remove all personal items from the house, declutter, and clean. It's advisable that you place as many items that you can in a storage facility if needed. By removing your personal items, you allow for potential buyers to imagine a clearer picture of themselves living in the space.
Removing clutter and cleaning your house will maximize the space in the house, which is a great selling point. Remember not to simply place everything inside closets or garages. Potential buyers will look here as well to get an idea of the layout and storage space in a home.
It might be hard for them to see the square footage and storage space if it's hidden by boxes and other items.
4. Focus On Great Curb Appeal
First impressions are lasting ones. Just because your house is cleaned well and tidied up, doesn't mean you don't need to tidy up your landscape and house's exterior as well. The first thing a potential buyer sees when coming to view your house is the landscape and exterior of the house.
If they get a bad impression from the minute that the pull into the driveway, this negativity might last with them throughout the entire tour of the house. Give potential buyers the curb appeal that they're looking for. Trim your bushes, mow the lawn, pour fresh mulch on the flower beds, and more.
You should also consider adding a fresh coat of paint to the house's exterior. Remember to use neutral colors of paint both inside and outside of the house!
5. Make Minor Repairs Suggested By Your Agent
Not all repairs are a good investment when you're about to put your house on the market. However, there are some minor repairs that you should take care of before trying to sell. These repairs are ones that your real estate agent will most likely suggest that you make.
A hole in the fence, a leaking toilet, faulty wiring, or stains on the walls or ceilings are all things that your agent may advise you to fix.
6. Stage Your House, Take Photographs, And Do Virtual Tours
Your real estate agent knows how to stage a house to make it the most desirable to buyers. A professional photographer knows how to take pleasant photographs that will draw the buyers in. And in addition to photographs, you might want to also consider taking videos of your house and posting virtual tours online.
Either way, a professional photographer will be your best bet at taking phenomenal pictures and videos of your house.
7. Set The Right Price
Speak with your real estate agent about what price is the right price for your home. The current market, your house's condition, the neighborhood, and other factors come together to determine a fair market price. Putting the right price on your house is a sure way to sell fast.
Research what other similar houses in the same neighborhood are selling for and price accordingly. You should also take into consideration any upgrades made to your house. Speak with your real estate agent about finding the right price to sell quick.
Source: palmerrealty
Professional Realtors, Marisol Mendez and Esteban work together and represent early buyers for the purchase or sale of new or used homes in Houston. "I am a Real Estate Professional in the Greater Houston Metropolitan Area. It has been my greatest pleasure to have helped many families close on their properties in the Houston Area. I am committed to making sure that your buying/selling experience is an enjoyable one. I am passionate about what I do and always looking out for the best interest of my clients."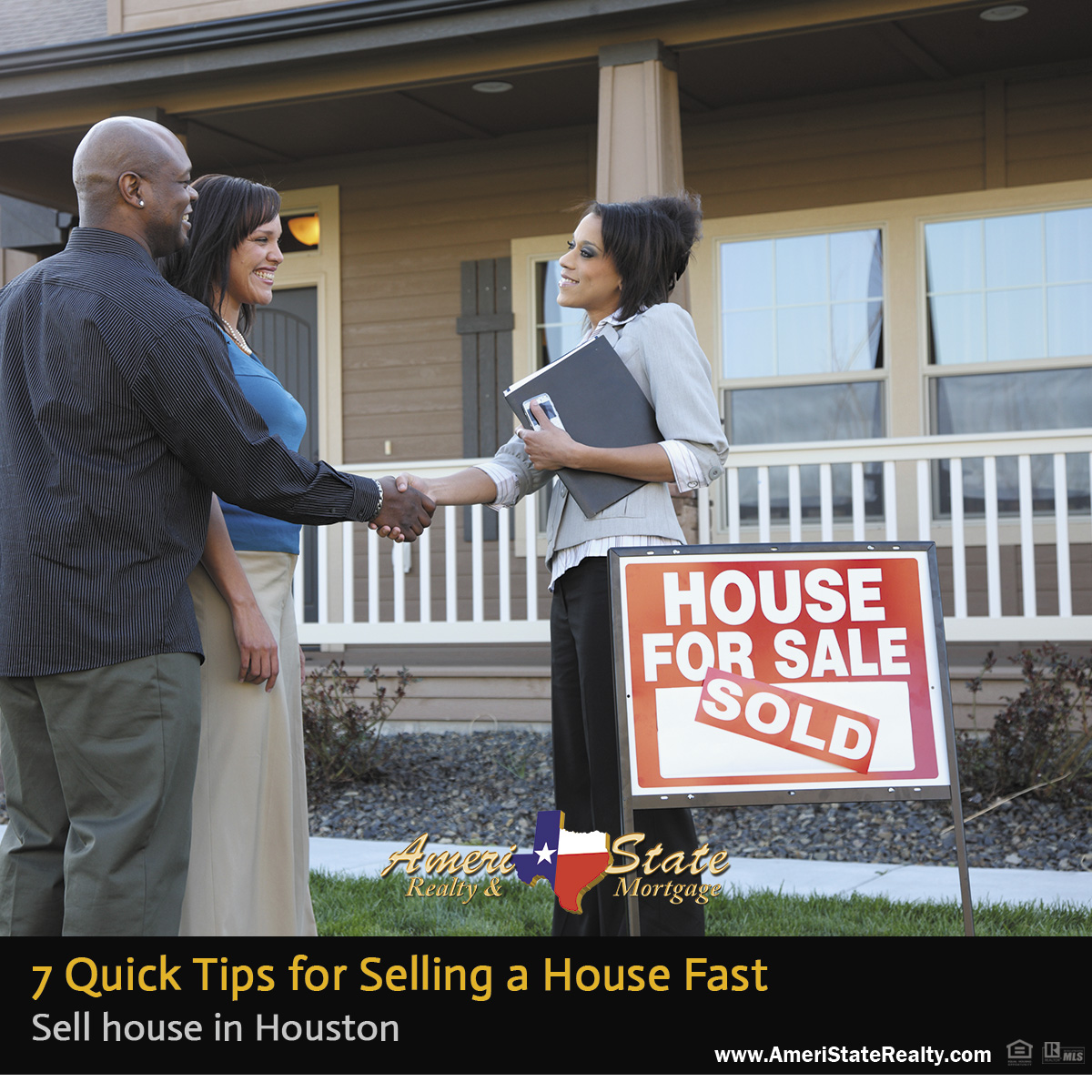 Sell house in Houston.
AmeriState Realty & Mortgage, Realtor in Houston, Buy a house in Houston, Sell house in Houston, Real estate agent in Houston, Homes for sale in Houston, Homes for rent in Houston, Mortgage, Residential Loans, Construction Loans, Land Loans, Commercial Loans, Industrial Loans