How to buy a house?
Buy a house in Houston
Buying a house can be an exciting and emotional process. Before you start your home search in earnest, though, you'll want to understand the ins and outs of the homebuying process. This will help empower you to make decisions that are the best for your family — and your wallet.
Here are 13 critical steps to buying a house:
1. Understand why you want to buy a house
Purchasing a home is a major decision that shouldn't be taken lightly. It's important to define your personal and financial goals before proceeding. Think about factors such as whether you're craving more stability, whether it makes sense financially and whether you're prepared for the responsibility of maintaining a home.
How this affects you: If you're not clear on why you want to buy a house, you could end up regretting your decision.
2. Check your credit score
Checking your credit score will help you determine your financing options; lenders use it (among other factors) to set your loan pricing and see if you're able to repay your mortgage. You can get your credit score from each of the three major credit reporting agencies — Equifax, Experian and TransUnion — for a nominal fee. Your bank or credit card company might have a program that gives you free access to your score or credit report, too.
How this affects you: The better your credit history, the better the chances you'll have of securing financing with the best terms and rates.
3. Create a housing budget
Here comes the fun part: figuring out how much house you can afford. It's not as simple as determining the purchase price. There are other expenses to consider as well.
A housing budget starts with understanding the maximum loan amount you qualify for. Next, you have to see what the monthly mortgage payment adds up to — and whether your budget can handle it. Lenders don't take into account monthly bills such as day care, tuition, utilities, groceries and other financial obligations, so it's up to you to crunch numbers and decide what monthly payment you can comfortably afford.
How this affects you: Setting a realistic budget for your new home will help you know what you can afford and how much your all-in costs will be.
4. Save for a down payment
After setting a homebuying budget, you'll need to save for a down payment, if you haven't already started. To avoid private mortgage insurance, or PMI, you'll need to put down at least 20 percent. Some lenders offer mortgages without PMI with lower down payments, but expect to pay a higher interest rate on the back end.
How this affects you: It can take months or even years to save up money for a home down payment. Research the down payment requirements for the loan you want so you know exactly how much you'll need to close. If a friend, relative or employer has offered to provide a down payment gift, initiate a conversation early on to learn how much they plan to contribute and if there's any shortfall you'll need to come up with.
5. Shop for a mortgage
Getting preapproved for a mortgage is proof that a lender will loan you a certain amount for a home. It's also helpful when you make an offer on a house, and it gives you a firmer handle on how much you can afford.
How this affects you: Shopping around for a mortgage with at least three or more lenders and/or a mortgage broker can help get you get the lowest interest rate.
6. Hire a real estate agent
An experienced real estate agent can be the key to help you find your dream home and negotiate with the seller on your behalf. This person should be on your side, helping you make informed decisions and refer you to other professionals like home inspectors, contractors (if needed), appraisers and title companies. That said, you should still shop around and compare fees from other professionals, too.
How this affects you: A real estate agent can save you time and money by helping you look for a home that suits your needs.
7. See multiple homes
Once you meet with your real estate agent, you'll likely be set up with a profile in the local Multiple Listing Service, which houses all listings for sale in a given area. Your agent can set you up on automatic searches for homes that meet your criteria. You can then let your real estate agent know what specific homes you want to see, or you can search online yourself. It's also a good idea to drive through neighborhoods you want to live in to see what's for sale, and attend open houses.
How this affects you: Listing photos can be misleading so viewing homes in person allows you to make an informed decision.
8. Make an offer
Once you find "the one," it's time to make an offer, which your agent can help with. A complete offer package should include your offer price, your preapproval letter, proof of funds for a down payment (this helps in competitive markets), a personal letter to the seller to help your offer stand out, and terms or contingencies.
Sellers might counteroffer on your price, terms or contingencies. From there, you can choose to respond to the counteroffer or reject it and move on.
Once an offer is accepted, you'll need to sign a purchase agreement that includes the price of the home and estimated closing date. Then you'll pay an earnest money deposit, which shows that you're serious about purchasing the home. It's typically about 1 percent to 2 percent of the total purchase price. The seller may have a right to keep the money if you back out of the contract.
However, there are cases where you can back out of a contract without penalties. That's where contingency clauses come in and typically include appraisal, financing and home inspection and are designed to protect the buyer. For example, if a home inspection report shows major problems, you can back out of the contract and get your earnest money back.
How this affects you: Understanding how to make an attractive offer can increase your chances the seller will accept it, putting you one step closer to getting those coveted house keys.
9. Get a home inspection
A home inspection helps you get an overall picture of the property's mechanical and structural issues. Depending on your contract and state of residence, you'll need to complete a home inspection 10 to 14 days after you sign a purchase agreement.
Your real estate agent may have recommendations, but you should do your homework before choosing an inspector. To make sure the home inspector has enough experience, read online reviews, ask for past client references and look at their credentials.
Remember, an inspector doesn't investigate all aspects of a home, so it's helpful to look at a home inspection checklist to see what is and isn't covered. As a buyer, you're responsible for paying the home inspector, and while the fees can vary, you'll pay an average of $300 to $450, according to Angie's List.
How this affects you: The home inspection will help you figure out how to proceed with the closing process. You might ask the seller for repairs, decide to back out of the deal if you have a contingency in the contract, or simply anticipate future repairs after moving in.
10. Negotiate repairs, credits
Your home inspection report may reveal issues in the home — some major, some minor. The minor issues may be a sign that you'll need to do repairs in the future, but major problems will likely need to be dealt with before a lender will finalize your loan.
Your agent can help you with negotiating any repairs — either the seller oversees the repairs, or you can ask for a cash-back credit at closing and handle them yourself. Some sellers may not agree to extensive repairs, and that's why a home inspection contingency is a good idea to give you a way out of the purchase if the home is in less-than-ideal shape.
How this affects you: If there are safety or hazard issues like structural damage or improper electrical wiring, some lenders might not approve you for a loan. Plus, you might not have the budget or desire to handle those repairs after buying the home. Enlist your agent's help to negotiate these items with the seller.
11. Secure your financing
At this point, you may need to submit additional paperwork as your lender completes the underwriting process. Documents might include bank statements, tax returns and additional proof of income, as well as a gift letter and written statements about any major deposits into your bank account.
Another tip: Keep the status quo in your finances until closing day. In other words, don't run up credit cards, take out new loans, close credit accounts or change jobs. Doing any of these things can hurt your credit score or impact your debt-to-income ratio, and that can imperil your final loan approval. A preapproval doesn't mean you're in the clear until a lender has given the final stamp of approval, so it's important to keep your finances and credit in good shape from preapproval to closing.
How this affects you: Getting final loan approval means you need to keep your finances and credit in line during underwriting. Respond promptly to requests for more documentation and double-check your loan estimate to ensure all the details are correct so there are no hiccups later.
12. Do a final walk-through
A final walk-through is an opportunity to view the property before it becomes yours. It's a good idea to have your real estate agent there who can act as a witness and help answer any questions you may have. Come with your home inspection checklist and other documents, like repair invoices and receipts the owner conducted, to ensure everything was done as agreed upon and that the home is in move-in ready condition.
How this affects you: This is your last chance to view the home, ask questions and address any outstanding issues before the house becomes your responsibility.
13. Close on your house
Once all contingencies have been met, you're happy with the final walk-through and the closing agent has given the green light to close, it's time to make it official and close on your home. Your lender will issue you a "clear to close" status on your loan.
Three business day before your closing date, the lender will provide you with a closing disclosure, a document that outlines all of your loan details, such as the monthly payment, loan type and term, interest rate, annual percentage rate, loan fees and how much money you must bring to closing. Review the closing disclosure carefully and compare it to the loan estimate to ensure closing fees and loan terms are the same. This is your final chance to ask questions about your loan and correct any errors (like your name or personal details) before you sign closing paperwork.
At the closing, you (the buyer) will attend, along with your real estate agent, possibly the seller's agent, the seller, in some cases, and the closing agent. Depending on where you live, the closing agent may be a representative from the escrow or title company or a real estate attorney. This is also the time where you'll wire your closing costs and down payment, depending on the escrow company's procedures.
Once all of the paperwork has been signed, the home is officially yours and you'll get those house keys. Congratulations! Now comes the fun part: moving in and making the house your home.
How this affects you: This is the last step before you become a homeowner. Review all of the documents you sign carefully, and ask for clarification on anything you don't understand. You'll leave closing with copies of the paperwork (or a digital file) and your new house keys.
Source: bankrate
Professional Realtors, Marisol Mendez and Esteban work together and represent early buyers for the purchase or sale of new or used homes in Houston. "I am a Real Estate Professional in the Greater Houston Metropolitan Area. It has been my greatest pleasure to have helped many families close on their properties in the Houston Area. I am committed to making sure that your buying/selling experience is an enjoyable one. I am passionate about what I do and always looking out for the best interest of my clients."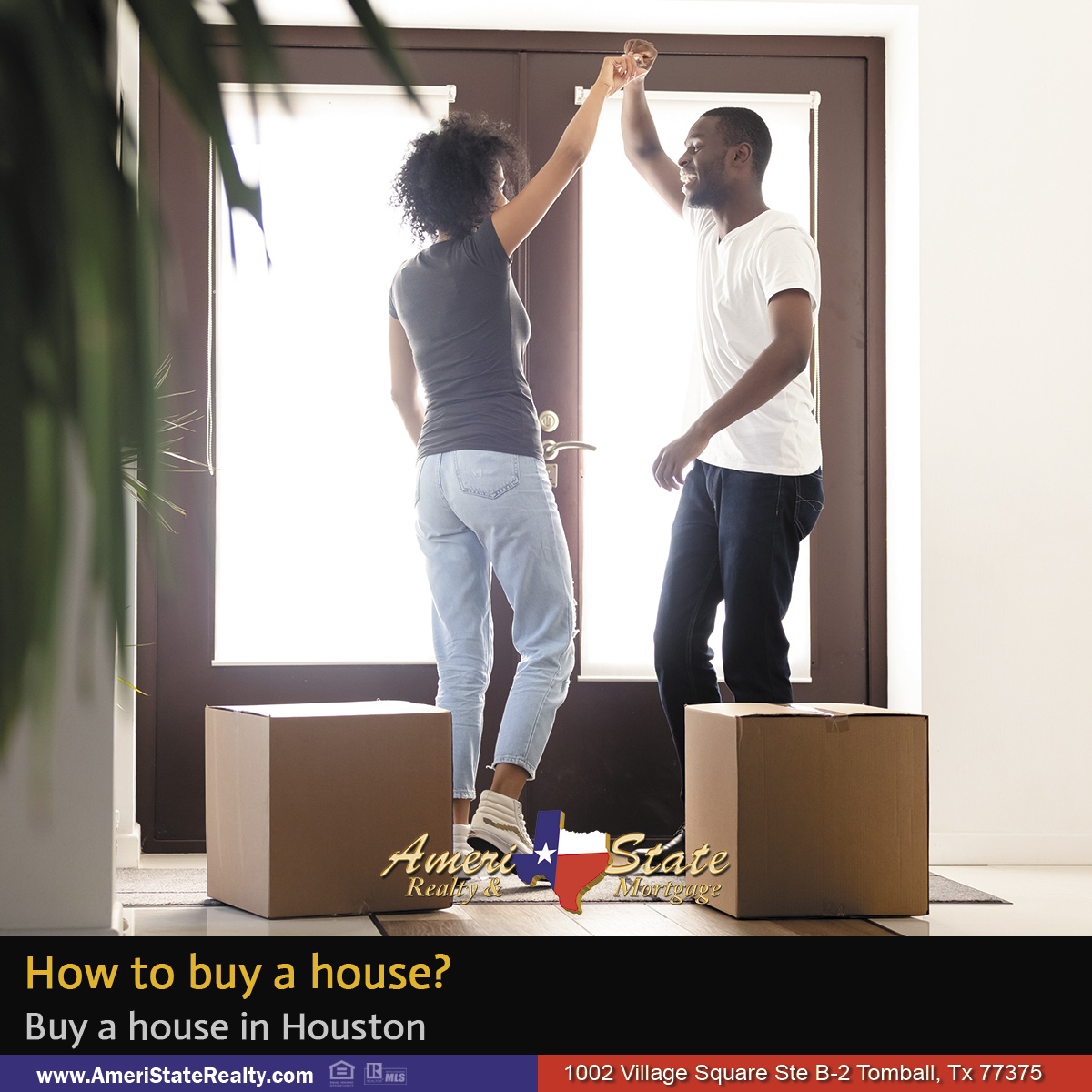 Buy a house in Houston.
AmeriState Realty & Mortgage, Realtor in Houston, Buy a house in Houston, Sell house in Houston, Real estate agent in Houston, Homes for sale in Houston, Homes for rent in Houston, Mortgage, Residential Loans, Construction Loans, Land Loans, Commercial Loans, Industrial Loans