How do home construction loans work?
Construction Loans
A construction loan is a short-term, interim loan to pay for the building of a house. As work progresses, the lender pays out the money in stages.
Construction loans are typically short term with a maximum of one year and have variable rates that move up and down with the prime rate. The rates on this type of loan are higher than rates on permanent mortgage loans. To gain approval, the lender will need to see a construction timetable, detailed plans, and a realistic budget, sometimes called the "story" behind the loan.
There are two main types of home construction loans
1. Construction-to-permanent loan
Under a construction-to-permanent loan, you borrow money to pay for the construction costs of building your home. Once the house is complete and you move in, the loan is converted into a permanent mortgage.
Because this format is basically a two-in-one loan, you have only one set of closing costs to pay, reducing the number of fees you owe.
During the construction of your house, you pay interest only on the outstanding balance; you don't have to worry about paying down the principal yet. Typically, you'll have a variable interest rate during the construction phase, so the rate and your payment can fluctuate.
Once it becomes a permanent mortgage — with a loan term of 15 to 30 years — then you'll make payments that cover both interest and the principal. At that time, you can opt for a fixed-rate or variable-rate mortgage.
2. Construction-only loan
With the construction-only loan approach, you take out two separate loans. One is solely for the construction of the home, which usually has a duration of a year or less. Then, when you move in, you take out a mortgage loan to pay off the construction.
With a construction-only loan, you don't need as large of a down payment. This can be a smart option for those who own a home and are building their next house. You may have limited cash now, but once your current home sells, you'll have more money to pay the mortgage on the completed house.
However, construction-only loans can cost you. Because you have to complete two separate transactions, you'll pay two sets of fees. And, if your financial situation worsens, such as if you lose your job, you might not be able to qualify for a mortgage to actually move into your house.
What construction loans cover
A construction loan is used to cover the costs of work and materials for new build homes. Some of the items you can finance with a construction loan include permits, contractor labor, home and roof framing costs, interior finishing costs and many of the other expenses involved in building a house.
Building your home
If you want to build a new home, know that you have a more difficult road ahead of you than if you pursued a traditional mortgage. Make sure you meet all of the lender's criteria and that you have a significant cash cushion before moving forward.
Source: bankrate
Professional Realtors, Marisol Mendez and Esteban work together and represent early buyers for the purchase or sale of new or used homes in Houston. "I am a Real Estate Professional in the Greater Houston Metropolitan Area. It has been my greatest pleasure to have helped many families close on their properties in the Houston Area. I am committed to making sure that your buying/selling experience is an enjoyable one. I am passionate about what I do and always looking out for the best interest of my clients."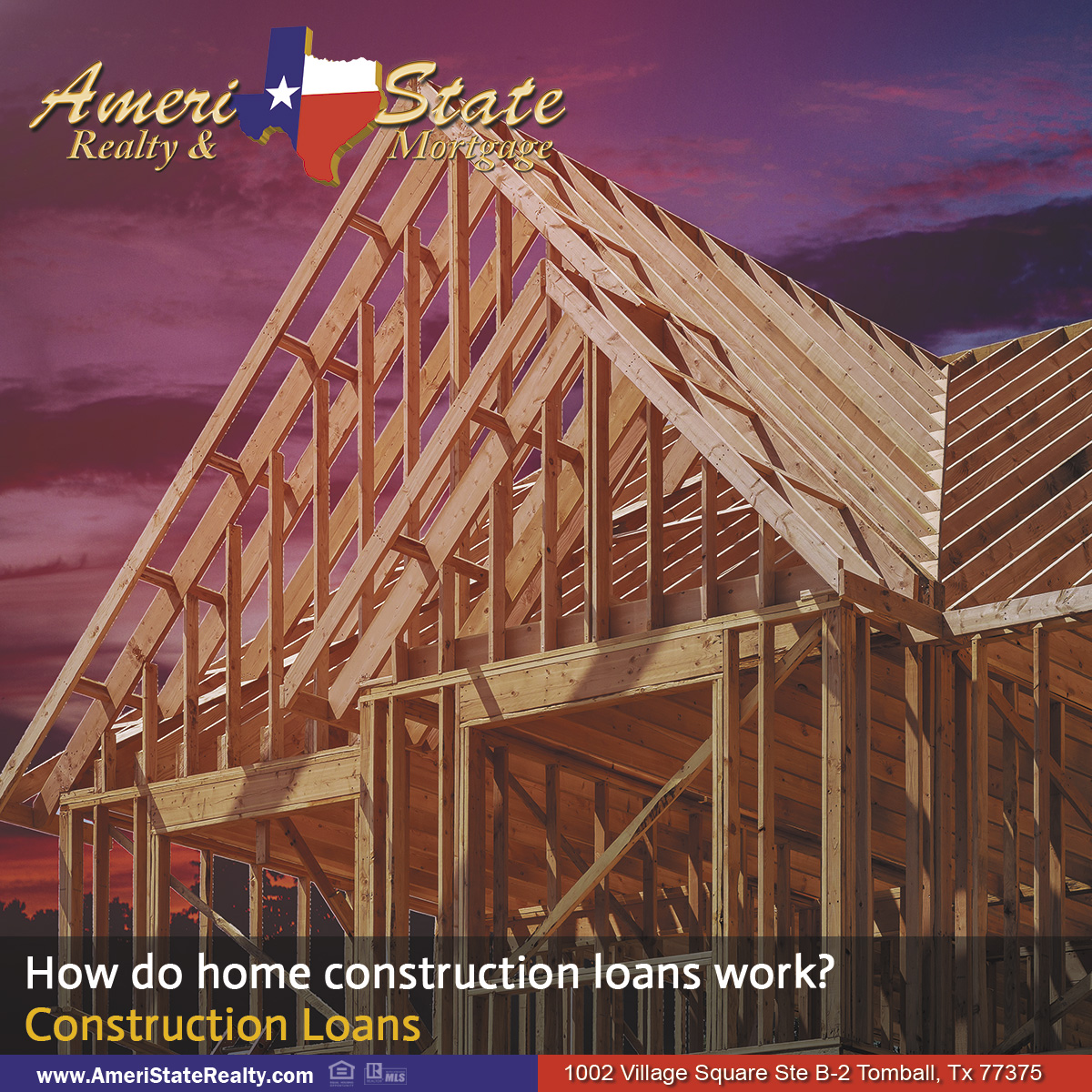 Construction Loans.
AmeriState Realty & Mortgage, Realtor in Houston, Buy a house in Houston, Sell house in Houston, Real estate agent in Houston, Homes for sale in Houston, Homes for rent in Houston, Mortgage, Residential Loans, Construction Loans, Land Loans, Commercial Loans, Industrial Loans