15 Decorating Tips for Creating a Home with Style
When it comes time to decorate — or redecorate — it can be daunting to try and create a stylish interior design. These days, it's more about options than hard and fast rules when it comes to decorating your home. The focus is on adapting concepts to your space and personality than following a prescribed formula. Gone are the matchy-matchy interiors of past decades — hooray — that are being replaced with more relaxed and individualist decor styles. Of course, there are some decorating tips that can help you hone in on what is really best for
Long and Lean Shelving
Mention shelving and most people imagine a stand-alone unit or a wall full of built-in shelves. Move beyond the standard options and think horizontally. Long and lean shelving that is either attached to the wall or sits as an individual piece is a modern option that keeps the look clean and different. Long single shelves behind a desk create a horizontal backdrop and offer plenty of space for storage that is within easy reach.
Low Slung Tables
Many modern and contemporary sofas have a lower profile and sit closer to the ground than traditional styles. While the visual is clean and casual, it also means that most occasional tables are too tall to be comfortably used. Choosing a low sofa means that your side pieces need to be proportionate to the furniture. Instead of a standard side table, look for styles that sit directly on the floor, complementing the height of the sofa seat. A long, low shelf that extends along part of the sectional, as in this example, is super functional as well as the right height for the seating.
Floor Lamps at the Bed Side
Another spot that benefits from innovative options is the bedside. Typically, most people look for a lamp that sits on the nightstand, or perhaps they might consider reading lights that are wall mounted. A more novel option is to use a floor lamp beside the bed, which does more than just provide illumination. If you think about it, floor lamps are ideal for the bedside because they free up space on the nightstand and add an element of height, especially if the headboard has a low profile.
Turn Lighting Into an Architectural Feature
Table lamps, ceiling fixtures and wall sconces — that usually about covers it for most people when they look for lighting. However, there can be more adventurous lighting solutions that transform the fixture into an architectural element for the room. Above, a modern floor lamp has been extended and attached to the ceiling, turning it into a focal point rather than just a lighting accessory. Even though it has a slim profile and only two modestly-sized shades, it is definitely the centerpiece of the room.
Opt for Ottomans
As already mentioned, matchy-matchy sets are pretty much passe. Gone are the days when you needed to have a sofa and a love seat, or the obligatory pair of chairs. If your style is more casual, or if you love to entertain, choosing a number of ottomans instead of side chairs is a trendy way to go. Sturdy ottomans offer extra seating and can serve as a portable side table when necessary. They are also a wonderful pairing with the growing trend of using multiple small occasional tables instead of one large coffee table.
Skip the Standard Coffee Table
Don't like a big, hulking expanse of a coffee table in front of your sofa? Try choosing a collection of smaller occasional tables that can be lined up or grouped in front of the sofa. It's a lighter, more casual look and for many, it's also a more functional option. Individual tables can be shifted around for entertaining or easily moved to another room to clear the space. Depending on style preferences, tables can be of different shapes and finishes, or can be part of an artful set that is displayed as a single unit but used as individual tables.
Go for Asymmetry
The first instinct might be to center a piece of artwork or a mirror over a sofa, desk or table, but that's not always the most striking choice. By positioning a focal piece off-center, it can bring more attention to the entire furniture grouping. The eye often takes symmetry for granted, so a little strategic asymmetry creates visual discord and draws attention to the piece. This massive round mirror is a good example. While the size makes it a dominant element, if it were centered over the sofa it would not have nearly the same impact as the side placement.
Use Modern Wood Panels
Wood paneling got a bad rap from the way it was used in the 60s and 70's, and that style is decidedly outdated. New options include textures and grains that make it a far more interesting design element. It's also best used as an accent, rather than the wall-to-wall covering it originally was. This pocket door makes creative use of wood panels as a decorative element as well as a functional one. The varying textures provide a good deal of interest and the color has an earthy influence.
Mix Up Kitchen Finishes
Another place in the home where matching no longer rules is the kitchen. Mixing different finishes and materials and opting for nontraditional colors or cabinet fixtures are the features that define many on-trend kitchens. This kitchen artfully combines an unexpected color — black — with traditional style panels on the cabinetry. The countertops sport a very non-traditional gold finish that adds a metallic glam accent to the space. Pops of color on the bar stools and flooring keep the feel casual. If redoing the kitchen is in the cards, mix it up and inject some personality!
A Chandelier for Your Coffee Table
Once confined to entryways and dining tables, chandeliers have now moved throughout the home and can be found just about everywhere. One great place where they can make a huge impact is over the living room coffee table. Installing a chandelier that has a stand-out design directly over the table draws attention to the center of the room. This is perfect for spaces where the remainder of the room has a minimalist flair, as this one does. Only the lighted shelving on the back wall accents the area along with just a couple of occasional tables.
Shades of Gray as Trendy Neutrals
Shades of gray in home decor have been popular for several years now and show no signs of waning. If decorating — especially with color — is an intimidating prospect, gray is a wonderful neutral to start with. If can be a successful monochrome palette if enough textures and hue variations are included. The living room above includes everything from lighter gray shelving in a smooth finish to a tweedy textured sofa and suede ottoman, atop a variegated rug. This combination allows room for pops of color, like these forest green cushions that proved an accent that is still restrained. Swapping out these cushions for a brighter spring or summer color is an easy update or a cost-effective way to sample different accent colors.
Divide a Space with Open Shelving
Open floor plans are great but sometimes you just need to section off some space. Open shelving is a great option for doing this because it is attractive from both sides and serves as an effective visual barrier. It is also moveable, so if the area needs to be reconfigured, it is easily shifted. Besides, it offers a great deal of storage and display space, especially in a wide open room.
Stick with Clean Lines
One of the easiest and chicest ways to decorate a space is to stick with clean lines. By choosing only pieces that are streamlined, it creates a modern and minimalist space that is still really comfortable and functional. This sofa has moveable sections and ottomans that provide extra seating. The modern look fits well with the media center arrangement and its mainly open shelving. The console largely runs the length of the wall and the low base is a perfect match for the low profile sofa. Devoid of fussy details it is a family friendly and stylish room.
Use Color as an Accent in a Child's Room
By painting a child's room in an array of bright colors, you are likely committing yourself to constant repainting as the child outgrows age-driven decorating. Instead, try starting with a fun neutral palette and a strong accent color as this desk and shelving area does. As a child grows, tastes change and it's much more cost effective to swap out or recover a chair, change accessories or reface a few drawers. Besides, this is just as fun and cheery as an interior that will soon be too juvenile for a teen.
Include Artful Accents
Beauty is in the eye of the beholder and that is certainly true with art, however, it can be the star that enlivens your personal space. Choosing a piece of art that accents a room can make it come alive, even if it is in the same color palette as the rest of the elements. This living room has a sophisticated but limited palette, but it is far from boring thanks to the art and accessories. The abstract piece above the sofa immediate draws the eye and a small sculpture on the mixed media coffee table is a stand-out accent.
Source: homedit
About Ameri State Realty: Professional Realtors, Marisol Mendez and Esteban work together and represent early buyers for the purchase or sale of new or used homes in Houston, Cypress, Katy, Spring, Tomball, The Woodlands or any other community in the Houston area we can advise you. "I am a Real Estate Professional in the Greater Houston Metropolitan Area. It has been my greatest pleasure to have helped many families close on their properties in the Houston Area. I am committed to making sure that your buying/selling experience is an enjoyable one. I am passionate about what I do and always looking out for the best interest of my clients."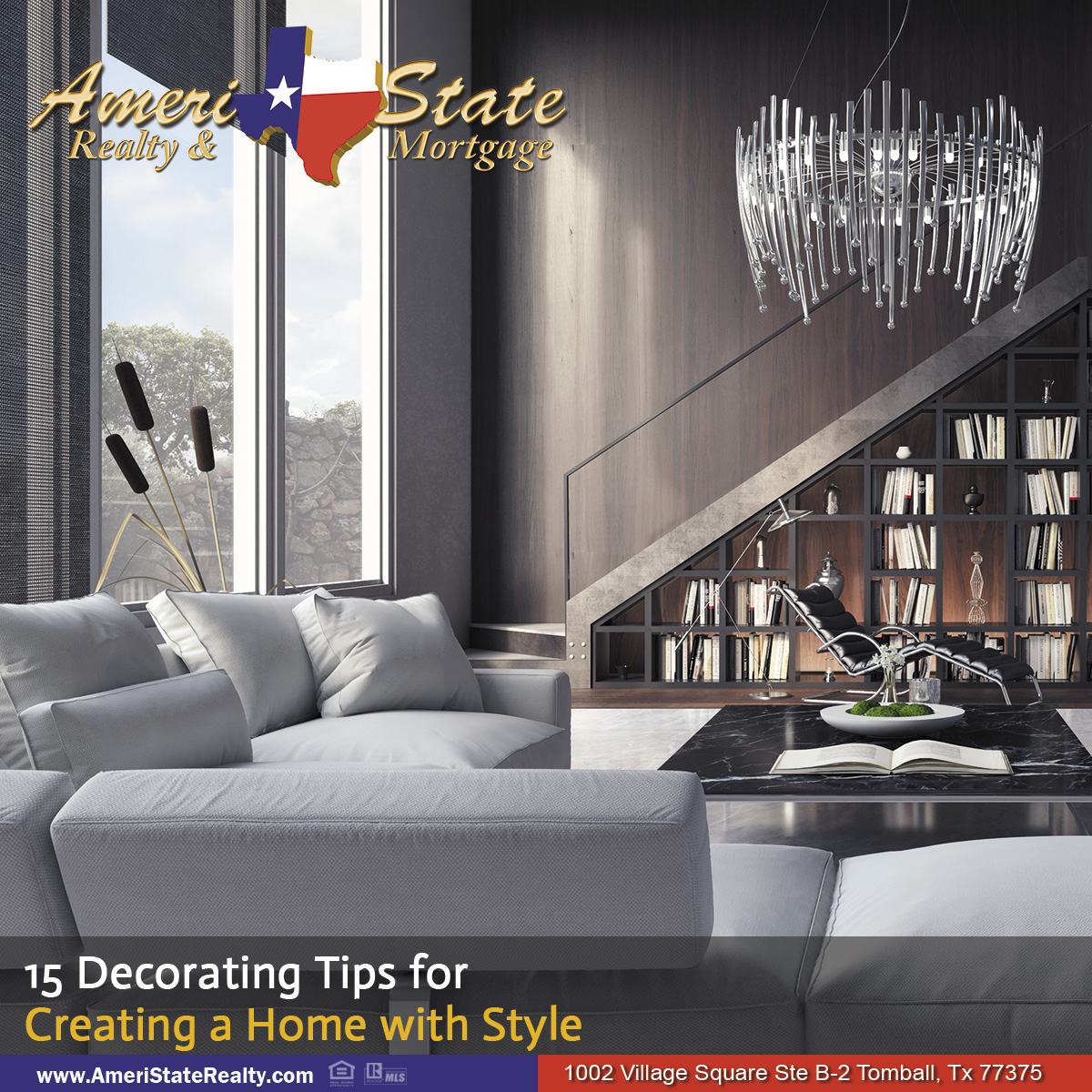 Realtors in the greater Houston metropolitan area, How to buy house in Houston, How to buy house in Cypress, How to buy house in Spring, How to buy house in Katy, How to buy house in Tomball, How to buy house in The Woodlands, How to buy a house in the Houston area, How to sell house in Houston, How to sell house in Cypress, How to sell house in Spring, How to sell home in Katy, How to sell home in Tomball, How to sell house in The Woodlands, How to sell house in the Houston area, Real estate agent in Houston, Realtor in Houston, Realtor that speak spanish in Houston, Homes in Houston Texas, Homes for sale in Houston, Homes for rent in Houston.