5 Steps to Buying a Home: Tips on how to find and finance your dream home
Many people are entering the market hoping to purchase their very first home, but don't know where to start. Here is a list of steps to help.
Step 1: Start early
You probably already have an idea of the area in which you want to live. Make a list of needs and wants related to your dream home. Do you need four bedrooms or is this simply a want? Do you need a two-car garage or will parking on a driveway suffice?
Improve your credit score as much as you can. Be sure any lingering old debts, no matter how small, have been paid off. Get your credit reports and make sure all old, paid, or settled debts are accounted for.
Continue or start saving for closing costs and a down payment.
Create a list of questions for each stage of the process including the closing process. Your real estate agent and lender should be able to address your questions and concerns.
Step 2: Determine how much you can really afford
Lender recommendations vary significantly based on factors such as if you plan to make a 20% down payment and the amount of debt you have. Talk to one of our expert network loan officers who can help you understand eligibility, program selection, available down payment and closing cost assistance initiatives.
Create a budget that includes your monthly mortgage payment, taxes, private mortgage insurance (PMI), utilities, yard care and upkeep, as well as annual expenses associated with homeownership.
Step 3: Work with professionals
While Internet research can be very helpful, working with real estate and banking professionals can ensure a smooth process and offer opportunities to save additional money.
A good real estate agent will know your neighborhood and have access to information and technology which can help you achieve your dream home goals. Ask for referrals from friends, co-workers, and within your community.
Get pre-approved by your lender. Pre-approval means you have been approved for a specific loan amount (usually for a particular time frame such as 90 days) but it does not mean you are pre-approved for a loan. Not only will getting pre-approved help you know what you can really afford, in most cases, it can help you close your loan faster. This can be a benefit when submitting your offer to sellers since they generally want to sell their house and go to closing as soon as possible. Final loan approval happens after the appraisal is done and the loan is matched to your property.
Step 4: Shop for a home and make an offer
Remember that list of needs and wants we discussed in Step 1? Now is the time to use it. Develop a checklist of all the homes you visit. It's hard to remember everything, so take pictures or videos with your smartphone to help you remember each house. Be sure to evaluate the neighborhood as well and take notes. Visit the home you want to make an offer on at different times of the day (and night) to check out parking, traffic patterns, and other activity that can vary from time to time.
Step 5: Get ready to move in
After your offer is accepted, you'll want to get a home inspection, get the home appraised, and finalize your loan. Your lender and real estate agent should continue to help you through each of these stages. At closing, you'll sign a lot of paperwork. Your earlier research can help you through this final stage. Lastly, start packing – you're now ready to move into your dream home!
Source: maryland
About Ameri State Realty: Professional Realtors, Marisol Mendez and Esteban work together and represent early buyers for the purchase or sale of new or used homes in Houston, Cypress, Katy, Spring, Tomball, The Woodlands or any other community in the Houston area we can advise you. "I am a Real Estate Professional in the Greater Houston Metropolitan Area. It has been my greatest pleasure to have helped many families close on their properties in the Houston Area. I am committed to making sure that your buying/selling experience is an enjoyable one. I am passionate about what I do and always looking out for the best interest of my clients."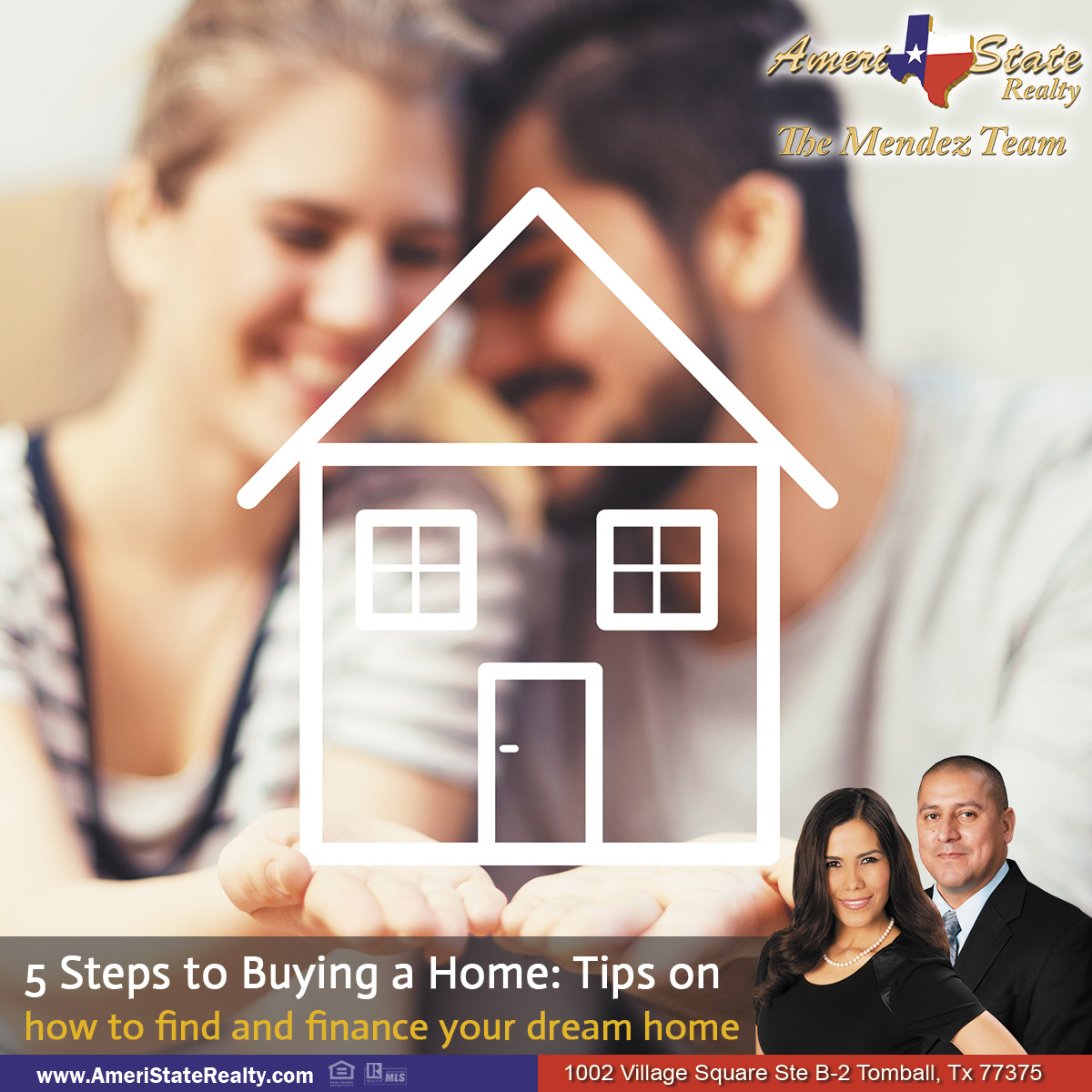 Realtors in the greater Houston metropolitan area, How to buy house in Houston, How to buy house in Cypress, How to buy house in Spring, How to buy house in Katy, How to buy house in Tomball, How to buy house in The Woodlands, How to buy a house in the Houston area, How to sell house in Houston, How to sell house in Cypress, How to sell house in Spring, How to sell home in Katy, How to sell home in Tomball, How to sell house in The Woodlands, How to sell house in the Houston area, Real estate agent in Houston, Realtor in Houston, Realtor that speak spanish in Houston, Homes in Houston Texas, Homes for sale in Houston, Homes for rent in Houston.